By Nitin Thakor, GeBBS President & CEO
The way patients want to receive their medical treatment is creating significant growth in two types of healthcare delivery facilities: Urgent Care Centers and Free Standing Emergency Departments.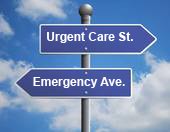 Urgent care centers have been around for some time and deliver ambulatory care that is performed outside of an emergency room setting, primarily on a walk-in basis. They typically serve patients whose medical needs may not be severe enough for an emergency room visit. Today, modern urgent care providers are well equipped to care for this patient population at a fraction of the time and cost, generating significant savings to the overall healthcare ecosystem.
The healthcare industry's growing emphasis on patient convenience and customer service has led to the rapid emergence of free-standing EDs in many areas as an alternative to hospital-based EDs.
With shorter wait times than hospital EDs and more sophisticated facilities than urgent care centers, free-standing EDs are becoming increasingly attractive to many patients as preferred sites for receiving emergency care. The most important benefit of free-standing EDs is that they can provide access to emergency services to patients in areas where hospital-based ED services are unavailable, and are less expensive to build and operate than an entire hospital.
One way in which all free-standing EDs are alike from a regulatory standpoint is with respect to compliance with the Emergency Medical Treatment and Active Labor Act (EMTALA). EMTALA states that hospitals accepting government-insured patients must provide emergency medical treatment to any presenting patient, regardless of ability to pay. Because many free-standing EDs are affiliated with hospital systems, they must accept all patients. Free-standing EDs are staffed by board certified emergency physicians and are usually open 24X7.
Urgent care centers can handle a variety of medical conditions that need to be treated right away, but are not emergencies. These facilities are usually staffed by primary care physicians and are open daily and on the weekends, but not on a 24X7 basis. They expect payment at time of service and may not accept many types of insurance.
Convenience, choice and insurance plans — or lack of insurance — are driving growth in these two types of healthcare facilities. One of the major differences between freestanding EDs and urgent care centers is the acuity level of the treatment being sought by patients. Patients can now triage themselves.