At A Glance
Customizable outsource medical coding services (Full or partial coding, temp, backlog, or overflow support)
PEOPLE
100% AHIMA and/or AAPC Certified
Thorough Screening and Training
Delivery Locations based on Budget, Scope and Preference:

Hybrid (Domestic & Global Coders, Domestic & Global Auditors, and Domestic Client Management)
All Domestic
All International
PROCESS
Recruitment / Training / Quality Assurance
Client-Defined
GeBBS Best Practices (Process, System, and Compliance & Governance)
Collaborative
TECHNOLOGY
GeBBS' FlexCode solution provides clients with an experienced and qualified coding team that have a clear understanding of your needs. Whether you need coders to work on-site or remotely, onshore or offshore, interim or long-term, the choice is yours. But GeBBS' FlexCode solution delivers more than coders.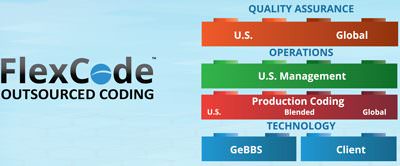 Outsourced Medical Coding
With GeBBS, you'll have one of the largest and most experienced coding staffs on your team with more than 1,200 coders. They know the most current coding regulations and keep up to date with the latest in patient care in the clinical and hospital setting. Strict enforcement of coding compliance guidelines, ongoing reviews, and a commitment to continuing education promotes coding accuracy, data integrity, and proper claims submission.
Flexible Coding Solution
GeBBS' FlexCode outsourced coding delivers you the best-of-breed solution. You get the production coding delivery locations that fit your specific scope, preference and budget. In addition, you have the added confidence of U.S.-based management that provides you localized services and adheres to the highest standards.
Coding Quality Assurance
GeBBS is not about just staffing coders. It is about providing a comprehensive outsourced coding solution. Dedicated quality assurance teams are active on your account throughout the process by deliverying the high level of coding quality you expect — from the initial QA reviews of new coders prior to being released on your account, and extends throughout the engagement with periodic retrospective QA audits of coders.
Technology Agnostic
GeBBS' unique value proposition is ot just in its people but also in its capital investment in technology. GeBBS coders can use your technology or our proprietary iCode Workflow coding software, which enables faster and more accurate coding. In addition, coding quality is monitored and improved using our proprietary iCode Assurance medical coding audit software. Find out how FlexCode can be a benefit to your healthcare organization.
| Facility Coding | Professional Fee Coding | Settings |
| --- | --- | --- |
| Inpatient | Evaluation & Management (E/M) | Level 1 Trauma |
| Outpatient Surgery | Pathology | Academic Medical Centers |
| Outpatient Ancillary | Anesthesiology | Integrated Delivery Networks |
| Emergency Department | Risk Adjustment | Community Medical Centers |
| Observation | Diagnostic & Interventional Radiology | Medical Groups |
| Clinic | Hospitalist | And More |
| Psychiatric | Pediatrics & Pediatric Surgery | |
| IR | Orthopedics | |
| | Urology | |
| | Obstetrics & Gynecology | |
| | Outpatient Surgery | |
| | HCC | |