Ascension Health, the nation's largest Catholic and nonprofit health system and a subsidiary of Ascension, showed everyone it recognizes the value of professional outsourced revenue cycle management when it made an offer last week to buy Accretive Health, the beleaguered RCM firm. Ascension is Accretive's largest customer, representing about half of the company's gross revenue from contracting activities last year. The health system said it does not intend to renew its professional service agreement with Accretive when it expires on Aug. 6, 2017, but they are apparently very interested in maintaining the company's RCM services, hence their offer to buy Accretive.
Ascension isn't the only health system interested in owning an RCM firm, a strategy which has benefited for-profit hospital chains in recent years. Catholic Health Initiatives recently raised its stake in Conifer Health Solutions, an RCM firm majority owned by Tenet Healthcare Corp., to 23.8% from 2%.
The fact that these two large health systems are interested in owning RCM companies exemplifies the enormous benefits of having a professional outsource revenue cycle partner on any size hospital's financial team.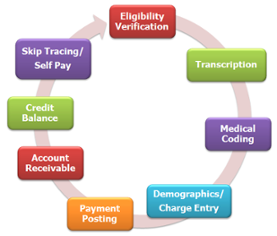 Those providers, who are seriously considering outsourcing any part of their revenue cycle, need to select a credible partner. The concept of total revenue cycle outsourcing is seen as the "next frontier" in the business process outsourcing (BPO) evolution. The possibility of outsourcing all of the revenue cycle is becoming a common topic of discussion among healthcare revenue cycle executives.
Many healthcare providers today are outsourcing large segments of their business office functions. The reasons for this vary, but the most common ones include outsourcing those portions of the revenue cycle, which are highly complicated or require advanced knowledge or certification.
Another reason for outsourcing is that many facilities struggle with filling internal positions, which are difficult to fill because their local talent pool lacks the expertise or the facility cannot support the pay scale required for those positions. There is immense pressure to maintain operational excellence while reducing full-time equivalent head counts, keeping capital budgets in check and meeting new reduced budget targets. That being said, BPO services offer extremely attractive financial alternatives for healthcare executives to help them manage costs vs. delivery of services.
For those thinking of outsourcing for the first time, it is important to consider the following fact: to ensure success, you must prepare your entire organization for the upcoming impact of outsourcing your key business functions. All stakeholders must clearly understand – when outsourcing — you can outsource responsibility, but you can never outsource accountability.
Key points to consider when outsourcing:
Why are you outsourcing — cost savings, service improvement or both?
Select your BPO service partner based not only on cost, but on the best fit for your organization.
Consider the outsourcing company's industry experience and leadership team.
Get the contract right and keep it simple. Clear contractual arrangements will create less disputes or misunderstandings.
Create your performance and expectation model together with your BPO partner.
Make sure your partner is flexible and can scale their services up or down to meet your needs.
The fact that two large health systems are seeking to buy outsourced RCM companies only exemplifies the tough financial situation plaguing many healthcare providers today. This challenge is only going to become more difficult in the future. The time has come when the survival of healthcare providers as we know today may rest upon the decision of choosing the correct outsourcing partner.