Robotics are being adopted in healthcare to improve aspects of patient care. Robotic process automation (RPA) challenges organizational leaders and stakeholders to think beyond the antiquated human-centric approach to other areas of healthcare like coding and administrative processes.
GeBBS' successful RPA deployments
RPA uses a set of rules and algorithms to complete repetitive tasks that are prone to errors. RPA is a healthcare automation solution that helps reduce manual data entry, assists with pre-authorizations, automates simple claim denials, and improves the customer experience through chatbots.
In Demo entry and Insurance verification with 30 BOTS deployed. This has enhanced the efficiency and productivity.
40 Bots for different processes of denial management, status, ERA, Download, EOB Text Extraction
For Payment Posting and Charge entry sceanarios, 12 Bots have been deployed
04 Appeal Bots "Anyone can appeal" for different payers

Data Migration and Validation
Assists in data migration from one PMS to another. Field-by-field mapping and data transfer verification. Benefit : $16K per year and $51 per year

Refund Packet
Auto-sequence and merge refund packets and upload them to the end system.
Benefit : 35-40% saving on efforts
$17K per year

Clearing House
Download ERA from the clearinghouse and process the ERA data into the system.
Benefit : $37K per year

EOB Text Extraction
Auto extract data (patient information, etc.) from the EOBs.
Benefit : 30-35% effort reduction
$233K per year
Snapshot of bussiness functionality

Our Automation Platform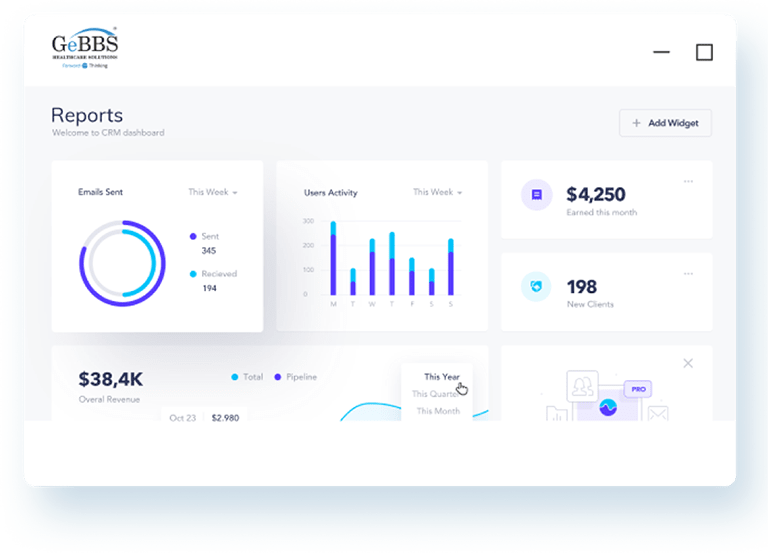 Automation's Potential in Healthcare System RCM
Claims Processing
There is much more to this than simply submitting a request to a payer for payment, as health system leaders know all too well.

Efficient RCM requires proper processing of vendor applications, patient insurance information and eligibility, accurate forms, expedited benefits retrieval, and accurate medical billing codes, to name a few

.

Automation can alleviate the strain these processes place on staff with programming that verifies assets from start to finish, and with shorter TATS than ever before

.
Data Entry
Error Mitigation
Real Time Analysis
Resource Allocation
Learn how Automation has Helped Healthcare Organizations
Get in touch with GeBBS and enhance your financial outcome