The old adage: an ounce of prevention is worth a pound of cure holds true for the potential increased denials that the new ICD-10 code set will bring when it is finally implemented in October 2014.
The conversion to ICD-10 is a HIPAA code set requirement. Providers, including physicians, are HIPAA "covered entities", which means that you must comply with the HIPAA requirements.
Who else has to upgrade to ICD-10?
Health care clearinghouses and payers are also HIPAA covered entities, so they are required to convert to ICD-10 as well.
HIPAA code set requirements apply only to the HIPAA electronic transactions. But if you don't use the HIPAA electronic transactions, you are still expected to require ICD-10 codes be used in other transactions, such as on paper, through a dedicated fax machine, or via the phone.

The Department of Health and Human Services announced a one year delay of ICD-10 implementation which is now scheduled for October 1, 2014. When CMS delayed the implementation ICD-10 date, this additional window of time presented an opportunity for U.S. healthcare providers to apply an ounce of prevention to the anticipated adverse effects from the new code set, including increased denial rates.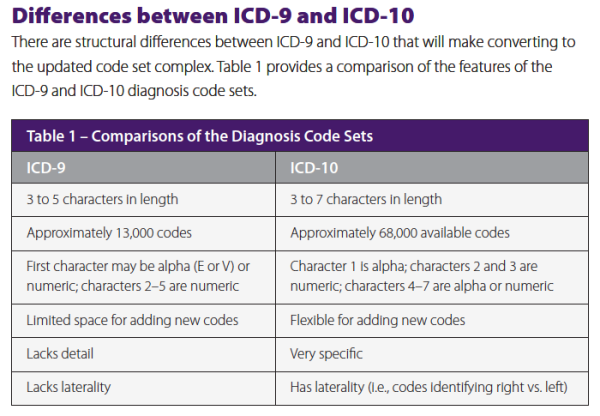 Source: American Medical Association http://www.ama-assn.org/ama/home.page?
Hospitals, physician practices, and medical billing organizations should use this opportunity to do three critical things:
Assess the knowledge gaps in their clinical, administrative and billing staffs.
Begin to use the ICD-10 code set to run side-by-side comparisons to determine if there will be a loss of productivity in their organization
Create a plan of action to address these issues
The specific impact of ICD-10 on healthcare providers is not well-defined. However, it is anticipated that due to multiple technical and clinical system interdependencies the impact will be significant.
The new code set is designed to provide benefits to patients, payers and providers, such as enhanced tracking and trending of diseases, innovations in payment design and contracting, improved care coordination, more effective case management and improved utilization management. These benefits come at the price of an increase in the number and specificity of diagnosis codes.
The added complexity is evident in the increased specificity in coding injuries, additional codes for laterality and emphasis on affected body systems. Coders who are light on anatomy and physiology knowledge will have an increased learning curve adapting to ICD-10.
Organizations that have not done so, should perform a knowledge gap assessment as soon as possible and consider establishing a training timeline to address how their staff members will handle the impact of the 65,000 diagnosis codes in ICD-10-CM, an astounding increase from ICD-9's 4,000 codes.
An effective "hands-on" staff training program should be started six to nine months prior to ICD-10 implementation. However, coding managers, leads and super-trainers should begin their training three to four months prior to the start of the staff's training.
Using the October 1, 2014 implementation date as a benchmark, you can establish an effective training schedule using the suggested time frames. A professional medical coding outsourcing company can provide assistance with all of these training requirements.
There are three main issues that if addressed properly, can help providers cope with the challenges of ICD-10:
Knowing their practice service patterns, assessing their staff's knowledge, and determining training needs: Assessing staff knowledge – coders, billing editors, and denial resolution teams – will allow providers to benchmark the training needs for these critical positions. You may want to consider engaging an outsourcing medical billing company to assist with these critical issues.
Being aware of their practice's operation, will allow providers to determine the top 80 percent of the ICD-9 codes they presently use: Providers should analyze their most frequently denied ICD-9 codes. Understanding these frequently denied ICD-9 codes, will create a reference point from which to monitor similar codes in the new code-set.
From this information, they can devise cross-walks which will significantly reduce the ICD-10 conversion hassle
The delay in ICD-10 code set implementation has provided the industry with a little more preparation time to apply an ounce of prevention. Use it wisely!