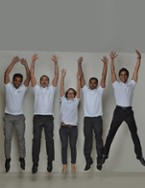 We at GeBBS are pleased to be mentioned prominently in a recent article in the Wall Street Journal. The piece, "Keep Employees Happy With Creative Perks", interviews some select "creative small firms" who use innovative benefits to keep their employees happy.
Of the 2,300 employees of GeBBS Healthcare Solutions, the majority work in India, and their average age is 24—so the company offers the Indian employees coverage for themselves and their parents. "This helps us retain employees, since their parents love us and want to keep their coverage," says Nitin Thakor, president and CEO of the Englewood, N.J., company, which helps providers maximize their reimbursements from health plans and insurance companies.
We are quite proud of our employees and we are committed to the idea that their well-being and happiness is synonomous with our Company success.