According to a recent healthcare technology research study, U.S. Revenue Cycle Management by HIMSS, focused on the revenue cycle management (RCM) marketplace, positive changes are predicted in the attitudes of CEOs, CFOs and IT directors toward the efficacy of RCM to improve a healthcare facility's financial operation.
The study included nearly 400 participants — CEOs, CFOs and IT directors — representing 360 U.S. hospital organizations of various sizes with the objective of assessing how the HITECH Act's focus on stimulating the adoption of Electronic Health Records (EHR) and Health Information Exchange (HIE) solutions combined with the delay in the ICD-10 compliance deadline was impacting the RCM marketplace.
The study found that 21 % of participants said they were planning to replace or enhance core RCM capabilities in the next 24 months, and for hospitals with more than 400 beds, that number increased to 36 %. 53 % of the respondents said they plan to upgrade their core RCM due to healthcare financial regulatory changes, with that number increasing to 68 % for the hospitals with more than 400 beds.
"With claims processing
errors alone costing
$17 billion per year and
rising, RCM is
an integral part of any
HCIT system intended
to reduce costs and
improve quality."
Source: Duff & Fhelps
The study clearly showed an active RCM market over the next 24 months, as more than 20 % of U.S. hospitals will be replacing their core RCM solution while another half will be investing in upgrades to their current core RCM solution. The study's results indicated that clinical systems like EHRs had pushed aside the focus on many things, including updating the RCM process over the last three or four years. The study further showed that healthcare administrators are now re-focusing their goals on investing and prioritizing the improvement of their revenue cycle management.
The study also predicted that the active marketplace trend in replacing systems and investing in upgrades when it comes to RCM systems is expected to continue for the next two or three years. There are definite signs that hospitals are beginning to have a stronger opinion about the importance of revenue cycle management and its impact on their successful operation.
RCM offers healthcare providers a solution
to increase revenue capture, often with
minimal upfront implementation costs.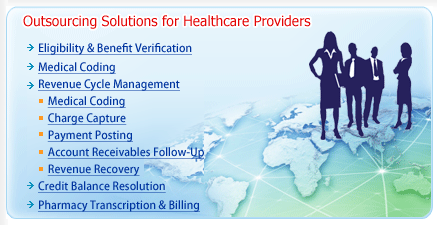 Other key findings from the research included:
Eligibility verification, POS collections and medical necessity checking round out the top three front office bolt-on solutions for planned investment.
Kiosks are a strategic priority for institutions with 400 or more beds.
Coding, denial management and contract management round out the top three back office bolt-on solutions for planned investment.
42 % of participants indicated the driver for bolt-on investment was improvement of collections (front and back office).
Confidence levels concerning the efficacy of RCM and the need for ICD-10 migration assistance were relatively high, scoring eight on a ten point scale.
Denial management remains a challenge for institutions, regardless of size.
In conclusion, the study also found that increasingly (58 % this year compared to 40 % in 2010) healthcare organizations favored utilizing a single vendor to handle all their RCM work.