By Nitin Thakor, GeBBS President & CEO
In a recent blog we asked that CMS go slowly with the enactment of the Medicare Access and CHIP Reauthorization Act (MACRA), a landmark payment system for Medicare physician fees that replaces the sustainable growth rate formula.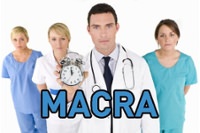 After a listening tour and nearly 4,000 public comments, CMS released the final rule in late October with the following statement by CMS Acting Administrator Andy Slavitt: "It's time to modernize the Medicare physician payment system to be more streamlined and effective at supporting high-quality patient care. To be successful, we must put patients and clinicians at the center of the Quality Payment Program. A critical feature of the program will be implementing these changes at a pace and with options that clinicians choose. Today's policies are designed to get all eligible clinicians to participate in the program, so they are set up for successful care delivery as the program matures."
Let us hope that CMS follows its own advice and does "implement these changes at a pace and with options that clinicians choose."
The MACRA Quality Payment Program has as its goal — reducing the administrative burden on physicians so they can focus on care improvement, promote adoption of value-based care, and smooth the transition to these new models of care.
The final rule includes two pathways for provider participation: the Merit-Based Incentive Payment System, or MIPS; and the Advanced Alternative Payment Model, or APM. The first pathway, MIPS, is designed for providers in traditional, fee-for-service Medicare. The second, Advanced APM, is designed for providers who are participating in specific value-based care models.
MIPS rolls together and sunsets three legacy CMS programs: Meaningful Use, the Physician Quality Reporting System and the Value-Based Payment Modifier. Physicians will earn payment adjustments based on performance in four categories linked to quality and value that will be similar to the previous programs. Since CMS rolled out the proposed MACRA rule, it has settled on a gradual ramp to full participation, allowing physicians to pick their pace between the following four options in 2017:
No participation and an automatic 4 percent negative payment adjustment.
Submission of a minimum amount of data — i.e. one quality measure — and a neutral payment adjustment.
Submission of 90 days of data for a potential small positive payment adjustment or a neutral adjustment.
Submission of a full year of data for the potential to earn a moderate positive payment adjustment.
Who qualifies for the MACRA Quality Payment Program? Physicians, physician assistants, nurse practitioners, clinical nurse specialists and certified registered nurse anesthetists — who bill Medicare more than $30,000 a year or provide care for at least 100 Medicare patients. For providers new to Medicare in 2017, participation is not required next year.
When does the Quality Payment Program start? Providers who are ready to start collecting performance data can begin as early as Jan. 1, 2017. However, CMS is offering providers the option to start anytime between Jan. 1 and Oct. 2. No matter when providers begin collecting data, it is due to CMS by March 31, 2018. The data collected in the first performance year will determine payment adjustments beginning Jan. 1, 2019.
We sincerely hope that CMS achieves its proposed goal of modernizing the Medicare physician payment system to be more streamlined and effective at supporting high-quality patient care. We also hope that compliance with this new mandate does not cause a tremendous burden on physicians and have the exact opposite affect that the new rule intended to achieve.