At the recent Becker's Hospital Review 5th Annual CEO + CFO Roundtable healthcare experts seasoned in the revenue cycle management (RCM) process discussed how their organizations and companies are working to stay ahead of the financial curve. As hospitals evolve into a value-based care delivery environment, RCM becomes even more critical.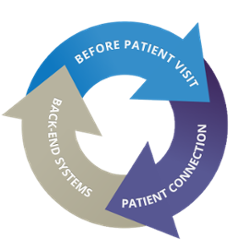 The Roundtable highlighted the fact that hospitals are striving to cut costs and that has paved the way for revenue cycle management to come center stage, with organizations throughout the nation making it a top priority. Each year, the United States spends $2.7 trillion on healthcare. Of that figure, $400 billion goes toward claims processing, payments, RCM management and bad debt, a 2009 McKinley & Co. study found. Additionally, the study also found 15 cents of every U.S. healthcare dollar goes toward revenue cycle efficiencies.
As patients become increasingly responsible for their healthcare dollars and margins get tighter due to shrinking reimbursements, the need for an end-to-end RCM process reaches a critical tipping point.
An end-to-end revenue cycle management process must be comprehensive and include everything from payor credentialing to complete billing and collections services. One of the Roundtable participants, a large healthcare system, had tried using an outside software solution, but allowed each member hospital to apply the solution in its own manner. They achieved only mixed results.
An experienced outsource provider of RCM solutions will have the management expertise in all facets of the revenue cycle and knowledgeable people to provide and manage an all-inclusive solution. Their billing experts will be well versed in all Medicaid state plans, managed care plans, government-funded programs, third-party insurance, and Medicare billing rules. They will also have the expertise to follow industry-standard key performance metrics and integrate best practices, so you will achieve the RCM results you desire.
An effective, end-to-end RCM outsourced solution will also include an HIM management component. This will provide an in-depth innovative solution that will allow you to successfully resolve your RCM challenges, while enhancing your overall business operations. A well-qualified outsource company will form a partnership with your hospital to optimize your RCM processes by leveraging their people, processes and technology to ensure your success.