The main issue that needs to be considered regarding offshore vs. onshore coding is not where the support comes from, but the technology, training, and expertise of the coders. With high-speed connectivity, security, and coding workflow software, the location of the coder is not as important as the expertise of the coder.
Facing lower reimbursements and shrinking margins, an increasing number of hospitals across the nation are exploring ways for cost savings. This has led many hospitals to outsource their revenue cycle management (RCM), including coding, to professional outsourcing companies. This trend was identified in a recent Black Book survey, which included responses from 1,309 hospital CFOs and business office leaders. The survey revealed that 39.8% of U.S. hospitals outsourced their complex claims coding and RCM to specialized vendors in 2015—up from 20.4% in 2013.
Also, according to the survey, 49% of hospital CFOs said outsourcing, both onshore and offshore, is becoming an extremely viable option for their organization's RCM. Black Book projects the market for outsourced RCM will increase at a compound annual growth rate of 26.5% over the next two years, with the market reaching a value of $9.7 billion by 2018.
The challenge for hospital financial managers, who choose outsourcing as a solution, is to find the right partner that has the knowledge, technology, and expertise to provide innovative, end-to-end solutions that will successfully resolve complex coding and RCM challenges.
The key to solving this challenge is to find a service partner that provides a flexible solution, so hospital financial managers do not have to choose between onshore or offshore. With a vendor that has the capabilities and infrastructure to provide both, financial managers can select a right solution that best meets their needs.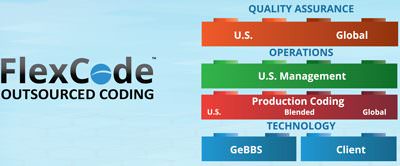 A flexible, hybrid outsourced coding option delivers a best-of-breed solution. Financial managers get the production coding delivery locations that best fit their specific scope, preference, and budget. In addition, they have the added benefits of a U.S.-based management team, localized services, and the adherence to the highest coding standards.
Outsourced coding support is not just about staffing coders. It is also about providing a comprehensive high-quality outsourced coding solution with dedicated quality assurance teams active throughout the engagement.
The modality of where coding is done has become antiquated. When using a true software-as-a-service coding workflow technology, it de-emphasizes where the work is done in favor of how to make the work easier and more efficient. An outsourced coding provider should be technology agnostic; the coders should be able to work within existing legacy systems, and the provider should also offer proprietary software systems for workflow enhancements and quality assurance auditing.
Many healthcare enterprises are hesitant to consider outsourcing coding services due to the fear of the unknown: costs, quality, turnaround time, transition, and security. Outsourcing coding can be a complicated process if it is not properly managed. That is where experience becomes the greatest asset. Expert management and transition specialists who have years of experience in creating customized outsourced coding solutions will move the hospital's business through a seamless transition process, allowing financial managers to spend less time on coding and more time on revenue generation and other long-term strategies.
Outsourcing is about more than just saving money. The right outsourced coding partner can help ensure long-term financial stability by creating more time to focus on growth. Attributes financial managers should look for in a coding partner include the following:
certified staff—100% AHIMA and/or AAPC certified;
proprietary workflow technology, if applicable;
proven processes for recruitment/training/quality assurance;
at least 10 years of hospital and provider experience;
a large network of experienced industry professionals;
corporate security certifications, including SSAE 16 Type II, ISO/IEC 27001, and ISO 9001;
customizable and scalable solutions that meet the hospitals needs—based on budget, scope, and individual preferences;
multiple delivery location options with a robust Business Continuity Plan; and
hybrid domestic and global coders, with domestic client management.
In addition, today's outsourcing solutions—onshore and offshore—need to maintain strict compliance with the latest HIPAA patient privacy standards to ensure secure data, software applications, hardware, network, and their physical infrastructure.
Conclusion
Where coders are located is not nearly as important as the knowledge they bring to the table. Hospital financial managers should select the engagement model that best suits their needs—onshore, offshore, or a flexible hybrid solution. By leveraging people, processes, and technology, outsourcing coding can help reduce operating and capital costs by up to 40%, optimize revenue based on compliant coding practices, improve patient satisfaction, and increase productivity.