The landscape of the healthcare industry is dominated by attempts to manage rising medical costs. At the same time, healthcare organizations must respond to demands for an increasingly higher quality of service. Lingering manual processes and disparate systems have fostered an environment of process inefficiencies. Hospitals are realizing that they cannot keep up with the requirements for improved levels of patient care and manage their IT, thus they must turn towards outsourcing as an option to address these requirements.
Why Healthcare Providers Are Expected to Rely on Healthcare Business Process Outsourcing (BPO)?
Until the 1990's, hospitals, health plans, clinics, laboratories, physician practices, insurance companies and health management organizations, had been slow to adopt technology and accept outsourced IT solutions. The realization of cost savings and increased implementation speed offered by outsourced service providers has changed this trend. IT outsourcers
offer immediate access to the expertise and talent required to effectively manage healthcare systems while providing the low up-front costs associated with a totalcost of ownership model (TCO).
Outsourcing, the strategic use of outside companies for a business advantage, has taken heat during the Presidential Elections in the United States. Each candidate is accusing the other of shipping American jobs overseas. However, there are competitive benefits to outsourcing that enhance the efficiency and profitability of American companies.
Reasons to outsource include:
Clinical Cost Control/Lowering Costs: Still the primary reason for outsourcing, claims can be handled in a cost efficient manner which results in greater profitability for the American firm.
Working with Experts: Finding skilled employees is one of the biggest challenges faced by companies today. Outsourcing frees companies from training and the burden of managing staff directly. The company getting the work gains expertise handling low profit, time consuming functions.
Time Efficiencies: Outsourcing often results in more prompt processing of claims. This is especially true for companies in the service industry that can provide round-the-clock customer support.
Distribution of Risks: When certain functions are outsourced, companies also distribute or do away with the risks associated with running that particular function.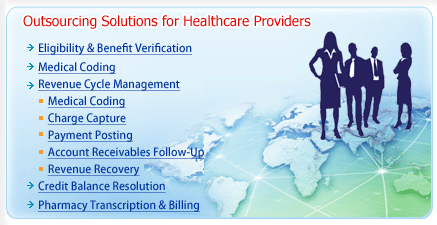 The healthcare sector is one of the greatest beneficiaries of productivity improvements generated through increasingly automated and integrated processes, creating a particularly strong market for companies like
GeBBS
Healthcare Solutions
offering
business process outsourcing.
These offerings include
revenue cycle management
,
clinical cost containment
,
disease management
,
health plan administration and medical record management
.
In conclusion, the outsourcing model solves both the technical and cost challenges faced by healthcare organizations.