By Nitin Thakor, GeBBS President & CEO
A relatively new phenomenon in healthcare has the potential to negatively impact hospitals' revenue stream. This new phenomenon is called the freestanding emergency department (FSED). We know that market share in any hospital marketing area is critical to the facility's success. If a competing FSED opens in a hospital's market area it will surely impact the hospital's revenue.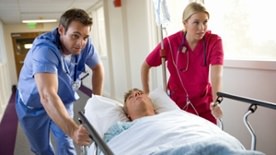 The concept of creating specialized healthcare delivery service lines has been around for some time; consider all the orthopedic and cardiology facilities. It's an old strategy; FSEDs are just a "new wrinkle." Freestanding EDs have a greater appeal over traditional EDs because they provide a faster and often more pleasant patient experience. These patients are typically insured, and as such, in the states where FSEDs are legal, they offer a potential threat to traditional hospital-based EDs.
Not only are these FSEDs faster and more efficient, they are also less expensive for patients. It takes a lot less overhead to run a freestanding ED than it does to operate a hospital ED. And, the FSEDs are staffed with board-certified ED physicians.
Another factor is that the placement and construction of FSEDs may not require certificate-of-need (CON) approval. Therefore, freestanding EDs can go into regions where hospitals do not have locations. They will use this vacuum to create an entry portal into the area's healthcare delivery system, maybe a suburban market dominated by a hospital.
How can hospitals compete?
Many traditional hospitals are establishing freestanding EDs of their own to capture and retain market share in their patient catchment areas. However, this is not a guarantee of success, because companies that specialize in FSEDs are very business savvy and aggressive in their business models. To that point, freestanding EDs are one of the fastest growing segments in healthcare delivery.
Another thing we need to watch, as we move to a value-based healthcare system, is large insurance plans that could gravitate toward the freestanding ED models, for the reason that it will be more convenient to insurers and cheaper, on average, than visiting an on-site hospital ED.
All providers can do is keep an eye on their local healthcare markets to determine the best plan of action for them when it comes to freestanding EDs. They are here to stay and they must be dealt with on an economic basis.