Black Book™, well-known for its accurate, impartial customer satisfaction surveys in the services and software industries, recently conducted its annual revenue cycle management outsourcing and software/technology user poll. They survey the clients of RCM vendors to provide insight into their customer experience in the functional areas of Billing, Charge Capture, Mid Process Coding, Claims Management, Reimbursement, Insurance and Payer Management, Payment Resolution and Collections, and collectively for end-to-end RCM software/technology and outsourced managed services.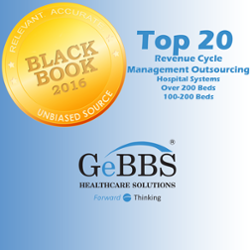 Black Book's most recent survey found that RCM solutions are in current replacement mode or assessment by 85% of provider organizations, hospitals and physician practices. The reason for this surge is that providers are trying to cope with the impacts of a value-based healthcare delivery environment. Healthcare providers are seeking to optimize their fiscal operating environments with better RCM solutions to improve payer connectivity, using advanced analytics that enhance the patient experience. 94% of health organization CFOs surveyed believe transformed revenue cycle management processes will allow them to become more efficient and positively impact their organization's financial health.
If your organization has not embraced an end-to-end revenue cycle management solution that includes everything from payor credentialing to complete billing and collections services, you need to do so immediately to cope with the effects of the new value-based healthcare delivery system.
A comprehensive, business process outsourcing (BPO) company can provide RCM solutions that will provide expertise in multi-specialty collections and billing to deliver an all-inclusive RCM solution with billing experts that are well versed in all Medicaid state plans, managed care plans, government-funded programs, third-party insurance, and Medicare billing rules. They will be able to follow industry-standard key performance metrics to measure success and integrate best practices, so that you get the full value of proven experience and expertise.
A comprehensive RCM package should include:
System and Process Implementation — PMS/EMR Implementation (optional); development of provider dictionaries, chargemaster(s), procedure code dictionaries, and clearinghouse set up.
Scheduling, Eligibility Verification, and Pre-Authorization — Patient schedules reconciliation, eligibility verification and pre-authorization/pre-certification, including copay/co-insurance estimates.
Data Entry — Patient demographic and financial information; charge entry into PM system; coding and billing edits.
Full Range of Certified HIM Clinical medical coding Services — Validation of procedure codes to documentation and accurate PT/ICD coding that are ICD-10 ready, along with coding compliance audits.
Claims Submission — Daily file submission; claim edit correction; reconciliation of claims.
Accounts Receivable (A/R) Management — Status, aged receivables projects and ongoing denial management; credit balance resolution.
Customer/Patient Access Solutions — Outbound and inbound phone center – make soft collection calls; pre-bad debt management; self-pay patient calls; incoming inquiries, patient updates and payments; and statement production (DMA).
GeBBS Healthcare Solutions, a leading offshore RCM provider, has just been named for the third year in a row to Black Book™ Market Research's list of the top 20 outsourced revenue cycle management services. We can help you survive in the new value-based healthcare delivery world.