The healthcare revenue cycle management (RCM) is just beginning to feel the effects of consumerism as employers focus on containing healthcare costs. This means that today's growing financial pressures on healthcare organizations will continue to escalate as consumers bear an increased financial responsibility for their healthcare costs.
Hospitals are under pressure to collect various streams of revenue — due to lower Medicare, Medicaid and commercial payor reimbursements — in order to stay solvent, maintain a requisite cash flow and keep revenue figures stable. Credit rating agencies and a hospitals' own internal financial management teams know that cash is king right now, and the revenue cycle teams have to overcome the contemporary obstacles to keep a steady cash and revenue flow.
Hospitals need to examine, optimize their RCM operations and to choose their revenue cycle management partner wisely.
There are five core areas hospitals have to examine carefully and individually: ICD-10, system integration, clinical documentation demands, billing and claims management, and contract analysis.
GeBBS provides a wide range of Healthcare Revenue Cycle Management (RCM) services from leveraging people, processes and technology to providing operational and financial solutions to clients. GeBBS's goal is to help clients maximize reimbursement and reduce expenses.
The company is based in Englewood Cliffs, NJ, and operates multiple delivery centers around the world.  This unique combination of healthcare industry expertise, technology and global resources yields cost and operational efficiencies that are among the best in the industry.
GeBBS offers 5 New Ways To Solve Healthcare Revenue Cycle Management (RCM) Problems: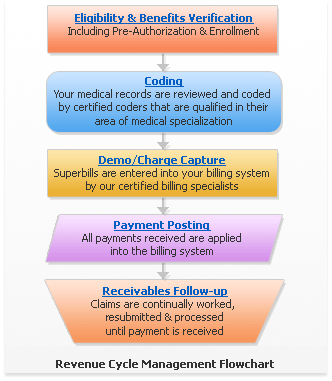 1. Eligibility & Benefits Verification
In the absence of proper eligibility and benefit verification, countless downstream problems are created – delayed payments, reworks, decreased patient satisfaction, increased errors, and nonpayment. To avoid these problems, GeBBS provides a remotely hosted Centralized Eligibility Unit for Hospitals and Faculty Practice Plans. The solution consists of GeBBS' staff, technology, management and our expertise with the objective of delivering high-quality, cost-effective patient insurance eligibility and related services.
GeBBS Eligibility Verification Services has the potential to:
– Improve A/R cycles
– Increase cash collections by reducing write-offs and denials
2. Coding
Coding health-related data permits access to health records according to diagnoses and procedures for use in clinical care, research, and education. Common uses of medical codes in healthcare include:
Identifying symptoms that must be evaluated and to alert other healthcare professionals to life-threatening allergies
Reporting services performed for reimbursement
Helping with administrative functions such as staffing, scheduling, and adding or decreasing healthcare services
Comparing facilities and planning for new services in underserved areas
GeBBS offers high quality coding services to healthcare providers. Our team is comprised of experienced Certified Professional Coders (CPCs) accredited by the American Academy of Professional Coders (AAPC). They have proficiency in the following code sets and usage guidelines; CPT-4, HCPCS, ICD-9-CM, LCD/NCD and CCI EDITS. GeBBS coding services cover over 25 clinical specialties and subspecialties.
3. Charge Cupture 
The charge capture module enables providers to create superbills anywhere, anytime, on their PCs, tablets, or smart phones. As the charges are captured as per the system-installed CPT and ICD codes, it ensures greater accuracy, reduced chance of missed charges, and quicker initiation of the billing process.
GeBBS has experience in working with all the leading practice management systems, including but not limited to Cerner, Epic, McKesson, NextGen, Allscripts, MEDITECH GE/IDX, Siemens, Athena Health and Medical Manager.
4. Payment Posting
Recording and managing the vast amount of information associated with patient care—from account creation to payment posting—requires specialized skills and innovative technologies.
GeBBS expert data capture services are driven by iP2P (Intelligent Paper to Payment) our proprietary workflow application engine. This solution automates the receipt, processing and posting of all RCM paper documents including charges, demographics, insurance payments, patient payments and correspondence.The iP2P Client Portal provides full visibility into real-time production status, exception management and auditing, along with an image repository for easy retrieval and viewing of the scanned documents.
5. Accounts Receivables
Physicians are often skeptical about the performance of their medical billing services, and maybe should be!  Using best practices in healthcare billing is essential.  Providers see reports with values at billed charges, can't understand why the actual collections aren't higher, and don't know how to effectively organize or manage this area of their medical practice.  Don't automatically blame the medical billing software.  The "human factor" and the lack of "policies and procedures" used in the need to be reviewed.
GeBBS objective is to improve your cash flow by reducing days in A/R and improving profitability by increasing your collections ratio. Skilled staff is trained to identify patient accounts that require follow-up and take the necessary action to collect unpaid/underpaid claims.