Drive Patient Satisfaction With Streamlined Patient Contact
Our technology-enabled services and a team of highly skilled customer-service professionals guide patients through scheduling, eligibility verification, pre-authorization, and self-pay collections from start to finish.
Deliver a Seamless and Simplified Patient Experience
GeBBS leverages technology and workforce management to reduce abandonment rates and increase first-call resolution with a customer-focused approach. Our solutions help improve collection outcomes, reduce the turnaround time, lower your costs, and increase revenue.

Our End-to-End
Patient-Centric Services
Pre-Authorization and Verification
Pre-Authorization and Verification

Patient Call Center

Eligibility Services

Scheduling

Self Pay Collections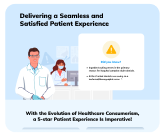 Know more about our latest insights, products and technological advancements in Patient Contact Solutions.
Streamlining Patient Contact Solutions
Insights
GeBBS – Navigating Revenue Cycle and Patient Access Operations During and After the COVID-19 Pandemic
Patient Satisfaction Improved with the GeBBS Call Center
The GeBBS state-of-the-art call center handles healthcare inquiries resulting in 40% average cost savings per call and over 75% first-call
Inbound call center services: 85%+ reduction in call abandonment rate
Client Background and Context Leading DME companies providing CPAP suppliers in the USA market. Client was facing: High call abandonment
News
GeBBS Healthcare Solutions
Blog
Patient Access Management
Patient Access Management
Patient Access Management