Deliver a Seamless and Simplified Patient Experience
GeBBS leverages technology and workforce management to reduce abandonment rates and increase first-call resolution with a customer-focused approach. Our solutions help improve collection outcomes, reduce the turnaround time, lower your costs, and increase revenue.

Increase in monthly collections within 1 month
Reduction in call abandonment rates
Calls answered within 20 seconds
Cost savings compared to in-house provider call center
Our End-to-End
Patient-Centric Services
Ready to talk? Activate for better healthcare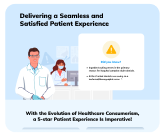 Know more about our latest insights, products and technological advancements in Patient Contact Solutions.
Streamlining Patient Contact Solutions
Simplifying Patient Access
Learn more about our Patient Contact Solutions
Get in touch with GeBBS and enhance your financial outcome