LIKE US ON FACEBOOK!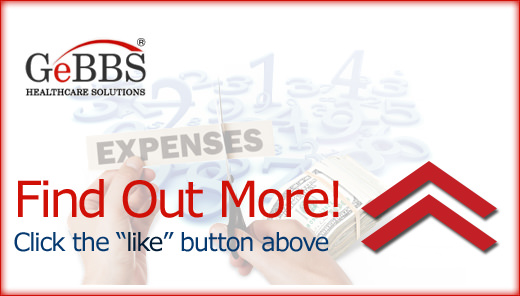 When you provide a healthcare service that requires a high level of individual employee expertise, how can you find immediate help when you have staffing issues due to increased work volumes? Who can you call on to provide assistance and not have the timeliness or quality of your work be affected?
These are important questions for today's healthcare providers, especially, in light of increased government oversight into the quality of healthcare services.
Many healthcare providers today are discovering the answers to these questions to be global outsourcing. One such outsource provider is GeBBS Healthcare Solutions. GeBBS has on staff college-trained experts in almost every healthcare specialty. These experts are well versed on the latest issues that are affecting the healthcare industry.
A recent case in point illustrates the efficacy of outsourcing as a viable solution.
GeBBS was called to help a Pennsylvania-based, long-term care pharmacy services provider to solve its staffing challenges.
The Challenges:
Even though the company had been very successful, they were struggling with staffing issues created by their own tremendous success in the marketplace. The pharmacy services provider utilizes wireless technology, an internet infrastructure, propriety software and robotic prescription dispensing systems to provide the latest in pharmacy order entry and medication administration.
The company's pharmacy services can be implemented as a turnkey solution that requires no software, eliminating any additional IT burden for its clients. Their systems also easily integrate with any legacy ADT systems, financial, billing and other clinical systems using industry standards such as HL7.
The pharmacy services provider's mission is to partner with clients to reduce costs, enable better clinical and financial outcomes, and improve staff productivity and satisfaction. Their services combine Just-In-Time Dispensing with electronic prescription ordering, formulary management, medication and treatment administration, and corresponding medical records documentation.
Since the pharmacy company is an outsource provider themselves, they understood completely the benefits of global outsourcing as a solution to handle their increased work volumes. They knew that many of the tasks they were falling behind on could be performed using a global delivery platform and that the precious experienced resources currently being used for data entry work could be re-deployed to other more critical tasks.
Another challenge for the company was the high volume of pharmacy orders being processed every day and the need to turn these orders around very quickly. Couple these tight deadlines with the complex process of medication entry — which requires an experienced staff — and a high quality work level that mandates 100% QA on every job, and you have exponentially compounded your challenges. They were also experiencing scanning issues, because identical patients were being scanned into the same batch which was causing the staff to have to re-do work that had already been performed.
The GeBBS Healthcare Solution:
GeBBS realized the importance of a fast implementation, so the company sent a Transition Manager to the client's site to ensure a seamless transition and to establish a clear communication channel between the client and GeBBS. GeBBS knew the importance of pharmacy-experienced staff and put together four key elements that would provide an immediate and ongoing solution for the client.
The team manager assembled a group of GeBBS pharmacy-experienced employees – all college trained – to provide immediate help to alleviate the client's staffing problem.
GeBBS established a training program that would create a new staff of employees for the client who could handle future work volume increases as they came online.
GeBBS standardized and documented the company's processes, so all employees, present and future would know how the workflow was to be handled.
GeBBS put in place new automation systems that would increase staff productivity to help them handle the increased workloads. In addition, GeBBS conducted regular web-based training and conference calls to answer staff questions and manage all of the training requirements.
GeBBS staffing plan ensured the right balance between experienced staff members and newly trained member – approximately a 50/50 mix. The GeBBS training function carefully evaluated all newly trained client staff members before they were deployed on the live project.
GeBBS also created standard templates for common pharmacy orders, which helped increase and maintain productivity. And finally, GeBBS provided the client with Automated Facility Reports which kept them apprised of all the activities that were being performed to help them solve their staffing challenges.
The Results:
The pharmacy services provider not only took care of its staffing issues in a very timely manner but also experienced significant cost savings by using the GeBBS Global Delivery platform. The increased productivity and cost savings came without any compromise of quality. The client also benefited by maintaining a 24-hour turnaround time and now had the ability to manage future spikes in volume. GeBBS outsourced solution also provided the client with intelligence reports (quality, batch rejection, query, turnaround, etc.) that helped them improve quality benchmarks for their internal staff.
The GEBBS Healthcare Solution Provided:
Pharmacy-experienced outsourced staff for immediate relief to challenge
Expert training for ongoing solution to problem
Coding and revenue cycle management to solve financial issues
Fast solution that did not compromise quality
Intelligence reports for valuable management feedback