The amounts for insurance deductibles continue to grow each year and there is no end in sight to these increases. With more and more patients opting for high deductible, low premium commercial health insurance policies, and the growing usage from the Affordable Care Act (ACA), providers must seek ways to collect these large deductible amounts at the point of care, using an integrated approach that includes call centers and comprehensive end-to-end revenue cycle management, coupled with compassionate collection training.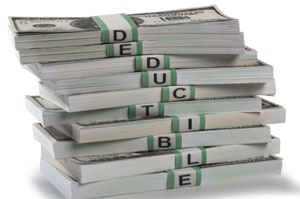 As patient financial obligation rise, so does bad debt.
The surge in these high-deductible health plans has also highlighted the fact that as financial obligations increase, the propensity for patients to pay any portion of that obligation decreases — for all patients, at all income levels. One report from McKinsey states that 30 percent of patients walk out of treatment facilities without paying anything. How can you be prepared to deal with these high deductible patient insurance plans?
You and your team must adjust your procedures and your thinking to deal with this new world of large self-pay amounts. Even patients are uncertain about how much they owe for their care. By updating your point of care collections procedures and investing in technology that allows your staff to openly engage with patients about their financial obligation, you can be equipped to minimize your bad debt levels.
The next step is to implement an end-to-end, comprehensive revenue cycle management solution that includes complete billing and collections services with professional call center follow-up support. Make sure your outsourcing partner has expertise in multi-specialty collections and billing, and is well versed in all Medicaid state plans, managed care plans, government-funded programs, third-party insurance, and Medicare billing rules. It is also important that your outsource partner has a staff that is trained in compassionate collection techniques that do not employ "strong arm" tactics which can upset your patients.
With high deductible commercial insurance claims and the ACA, insurance and eligibility verification are absolutely critical. Identifying the patient's responsibility upfront, prior to the visit is critical in managing your receivables. In the absence of proper eligibility and benefit verification, countless downstream problems are created — delayed payments, reworks, decreased patient satisfaction, increased errors, nonpayment and bad debt. An end-to-end, outsourced back office solution can provide the answers you need, and help you survive in this new world of high deductibles.