Facing lower reimbursements and shrinking margins, hospitals are exploring ways to capture more revenue. This has led an increasing number of hospitals across the nation to outsource their Revenue Cycle Management to professional outsourcing companies. This trend was identified in a recent Black Book™ survey, which included responses from 1,309 hospital CFOs and business office leaders. The surveyed revealed that 39.8 percent of U.S. hospitals outsourced their complex claims and revenue cycle management to specialized vendors. That is up from 20.4 percent of hospitals in 2013.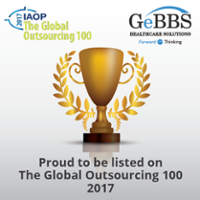 Hospital billing and collections staffs typically do not have the experience in handling complex revenue cycle management challenges, causing a significant number of claims to be written-off.
Many hospitals are turning to outsourcing to reduce those write-offs and give their organizations a financial boost. According to the Black Book survey, 49 percent of hospital CFOs said outsourcing, including offshoring, is becoming an extremely viable option in 2017 for their organization's revenue cycle management. Black Book projects the market for outsourced revenue cycle management will grow at a compound annual growth rate of 26.5 percent over the next two years, with the market reaching a value of $9.7 billion by 2018.
The next challenge for hospital financial managers is to choose the right outsourcing partner. CFOs should select an outsourcing partner that has a national recognition as a provider of RCM and HIM solutions. They should choose a company that has an in-depth healthcare industry knowledge and has the expertise to provide innovative, end-to-end solutions that will successfully resolve their complex RCM challenges, while enhancing their overall business operations.
This kind of outsourcing partner can leverage deep industry knowledge and expertise, and provide a partnership approach with comprehensive service offerings. They will deliver highly skilled professionals, robust processes, proprietary workflow engines, and world-class infrastructure to reduce operating and capital costs, recover revenue, improve patient satisfaction, and increase productivity.
This week, the IAOP® has named GeBBS Healthcare Solutions to its 2017 Global 100 Outsourcing List, an annual listing of the world's best outsourcing service providers. We were recognized as an industry leader in healthcare revenue cycle optimization outsourcing solutions for the second year in a row that was judged in five main categories: size and growth, customer references, awards and certifications, programs for innovation, and corporate social responsibility.
It extends GeBBS' long history of awards. Modern Healthcare has listed us as one of the nation's top 15 largest revenue-cycle management companies for 2016 and we've been recognized as one of the top 20 outsourcing providers for revenue cycle management for hospitals 100 beds and up, according to Black Book Market Research.
As hospitals are forced to do more with less, outsourcing provides the scale necessary to optimize revenue from complex claims collections to end-to-end revenue cycle management. Be sure to select an outsourcing partner that fully understands your healthcare RCM needs.